Featherlite
Trailer Review
Friday, January 4, 2002


Featherlite seems to continue to dominate the numbers of trailers I find at equestrian events - both national shows and the local jackpots - and I wanted to know why.



---
Featherlite introduced the industry's first all aluminum gooseneck trailer back in 1973 - when most of us were still pulling steel. In fact, they hold the claim to being the original all aluminum trailer. I was excited when Featherlite called and asked me to try one out this fall. We agreed to stick to a fairly standard type - the Model 8541, four-horse, gooseneck. I've been pulling it for two months - numerous short trips of less than 50 miles, and one long trip from Kansas City to Indiana and back.

Appearance

Featherlite delivered the trailer on a Sunday in November, (I left the sermon ten minutes early), and I have to tell you it's always exciting to back up to a new trailer. I drove it back to church. The rest of the family was waiting for me. Church was just letting out. I ran inside and touched my wife on the elbow. "Is it outside?" she asked. She exited without a further word and returned a moment later. "Great looking trailer.", she said quietly. "Let's go." With that - I was satisfied with the first test. Women make most of the trailer buying decisions, whether men will admit it or not. . . and if they don't like the way a trailer looks, they're not likely to look into it any further. No matter how it's constructed.
| | |
| --- | --- |
| | Taking a moment out to enjoy the sunset with my son in front of the trailer that evening. |
General Review
Featherlite makes a good quality product at a fair price. Sounds simple but it's true. It's a household name you never have to explain when you decide to sell - and they offer excellent scalability. A fancy word for saying you can buy a basic production model that meets most people's needs - or you can upgrade through their wide selection of models. The Model 8541 uses a combination of extruded metal and smooth skin. I personally like the look - and it's functional too. Horses tend to get into mischief when tied to a trailer and the extruded metal in this area tends to hold up better to the occasional stray hoof, or possible scratching from a bit or halter hardware.
---
| | |
| --- | --- |
| | |
The inside of the trailer is open and spacious. Protective rubber runs around the entire horse compartment and the latches are easy to slide open - even with a gloved hand. But there's a potential for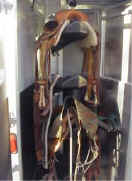 an enormous amount of pressure on a divider latch and the divider itself is not impervious to flexing making it easy for latches to get out of alignment and fail to latch. This is not a problem with the Featherlite. The groove pocket is large and set into the wall itself - distributing the pressure over a larger area.

The saddle rack is removable. I liked the use of molded plastic to keep the saddles from sliding off and noticed you can adjust the height on each one - or remove them entirely. I hate cramming saddles into this compartment and I didn't have this problem with their rear tack. There was even room along the side to slide blankets.

Pulling. The true test is when an eighteen wheeler rushes past and you grip the wheel in anticipation of the wind effect and sway. The Featherlite didn't seem to notice. Loaded or empty - I liked the way my truck handled the trailer and shifted on the hills. The trailer seemed to know exactly where it belonged, and it didn't telegraph any messages to remind that it was still attached and wrestling with my torque. In effect - It pulls easily.
Unique Features

The most obvious difference in the newest Featherlite is their windows. They are BIG. Featherlite now uses the "Light Flo" Drop Down Feed Door and it's standard on all models. This isn't a feature I would have thought up on my own - but now that I've had the chance to experience it . . . . I have to admit, large windows really make sense. If horses could talk, I'm sure they'd vote for the more spacious feeling compartment - not to mention a better view. And I've never heard of a horse or owner complaining about too much air flow on a hot August day.

Bars remain up for maximum air flow and safety when hauling.

The latches all had pins. I didn't see where you needed them - but using them does ensure that you've taken the time to make sure the doors are shut. Better safe than sorry.

Loading

If you have a well behaved horse, loading them is actually fun. Especially into a nice roomy trailer. The step up is just right - about 15 inches - while still allowing for clearance beneath the trailer in rough ground. Featherlite has done away with the solid butt bar - using a strap for safety reasons. Horses can get under the butt bar, placing their hoofs on the ground and wedging themselves under the bar. When this happens it is virtually impossible to disengage the bar. The strap can be quickly and easily cut, freeing the animal. The strap actually holds more weight than the metal, according to the engineers at Featherlite - who test such things.

Construction

I don't usually go into any detail on construction, but there seems to be a lot of controversy over flooring and strength - distances between support rails - steel frame, vs. aluminum, and on and on. My advice is to listen to each manufacturer's reasoning. No two will be alike and there IS validity to differing designs. An extruded sheet is much stronger than a flat sheet of metal - therefore the flat sheet requires more floor support rails. But many manufacturers will brag about closer floor supports - instead of telling you they need them. See what I mean? Be careful and just remember - trailer manufacturers wouldn't be in business long if even one of their trailer floors simply gave away. By the way - Featherlite uses a heavy duty extruded aluminum floor. (See picture attached)


Heavy duty hardware throughout the rig - including door latches. (Note the full rubber seal around the entire door

Things I would add to this particular model

A small step for getting into the nose of the gooseneck
A different method for holding the dividers open

Things I really liked about this particular model

The windows
The camper-screen door
The rear tack compartment
Did I mention the windows?

Summary

Most of us just want to get from point A to point B without breaking the bank - take our kids and get home safely. But deep down inside we want to look good too. This is a great trailer and well styled. I personally love the mirrored stainless steel on the tapered nose. Featherlite graphics and painting system (Sikkens) is one of the best in the industry. Besides, my wife loves the way it looks. This is a solid trailer and I received nothing but good comments from other Featherlite owners while pulling it. I spoke to at least a dozen folks.

The Featherlite roof is one solid piece of aluminum, eliminating those nasty seams that tend to invite leaks. It pulls and rides well using rubber torsion axles. It's a durable trailer, right down to the fenders - you can stand on them and not worry about flexing them. (Featherlite uses premium grade aluminum) I even loaded my two-ton draft horses, Fred and Barney. Draft horses look funny in fancy trailers - but the boys had plenty of room. I would be happy to pull one any time. By the way, this Review Trailer is now for sale. Make a reasonable offer. It was factory direct for the purpose of the Trailer Review and you can contact me for more information

Review by Dave Mattern horsetrailerworld Comments to the editor.
The American flags drew many "waves" from passing motorists as we drove down the highway. Nice touch, kids. Maybe Featherlite would do well to add a flag decal to their logo for the models in the future.
Dealer Login | Search Trailers | Contact
© Copyright HorseTrailerWorld.com. All rights reserved including digital rights.
Horse Trailers by Manufacturer